Name:
Arcania Halo--Call me Arc

Age:
16
Hair:
deep hazel
Eyes:
light green
Personality:
Although her boyish attitude and appearance mislead people, she's a real girl in the sense that she's motherly. She tries not to be bias and tends to look at both sides before judging. It's hard to tell the difference between her sarcasm and senserity now and then, but when her friends arein trouble she's got a shoulder to cry on, an open ear and a sincere heart for them. Although she can be a pushover, when someone hurts her friends she can get pushy.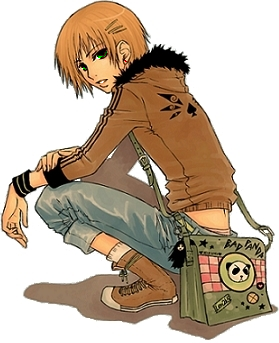 Pokémon:
Achi((based on Hamachi--kind fisher)): Swampert, Hakuhou((TOday's Yokozuna in Sumo wrestling)): Hariyama, Shizu((based on Shizukesa--Serenity)): Medicham, Anubis: Riolu, Aku((based on Akuma--Devil)): Sableye, Sei((based on seifukusha--conqueror)): Empoleon
History:
When she was younger, her parents gave her a mudkip becuse she was so curious about pokemon. She was simply friends with the mudkip until one day a Poochyena attacked her for her food and her mudkip protected her. Her mudkip seemed so pround and happy about doing this.
Since then she's had an interest in training pokemon so that they can be more than your loyal friend but your guardian angel, just as her pokemon had grown to be.
She lives alone nowadays, working as a comissioned artist. Now and then she joins tournaments. Her victories are fairly a lot.
One say, she came across an academy for trainers...
Interesting..
she thought, as she approached the academy.